Halloween season is here once again, which means it's time for Amo-san's fashion show!
We start off our show with a 4L sized pumpkin hat and a Halloween cape. The hat can be attached with a velcro.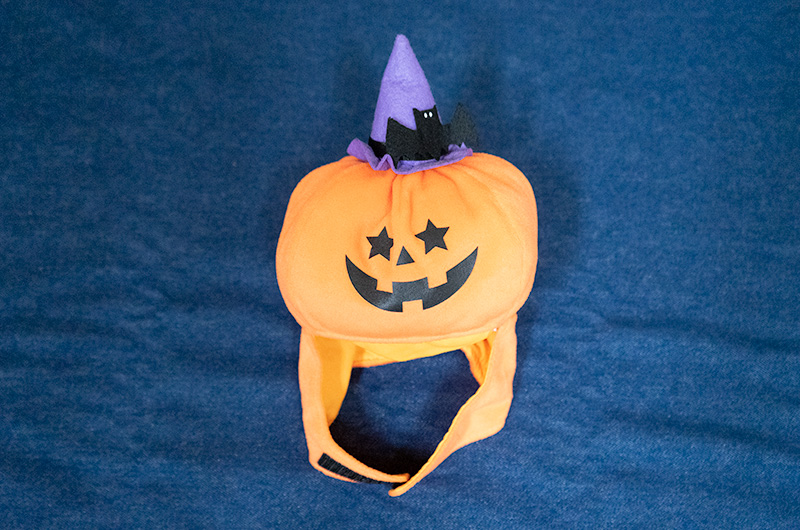 We had to make do with 4L and LL size because 3L size was out of stock. Despite LL being too small and 4L being too large, we somehow managed to fit Amo-san in. Stay tuned for Amo-san putting the hat on.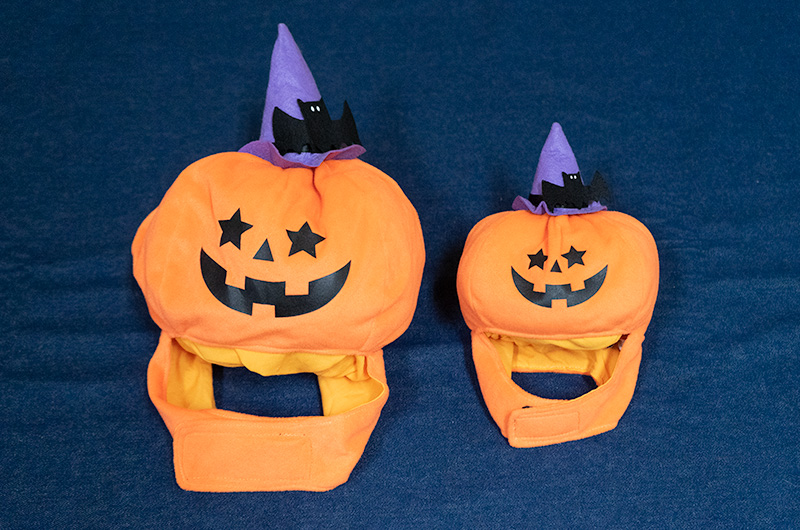 The LL cape on the other hand was a reversible with the colors being orange and black. This cape can be tied with a ribbon.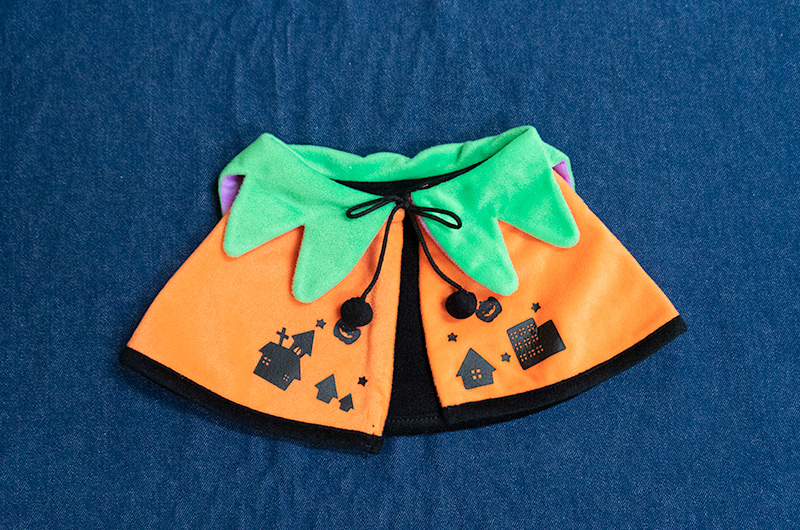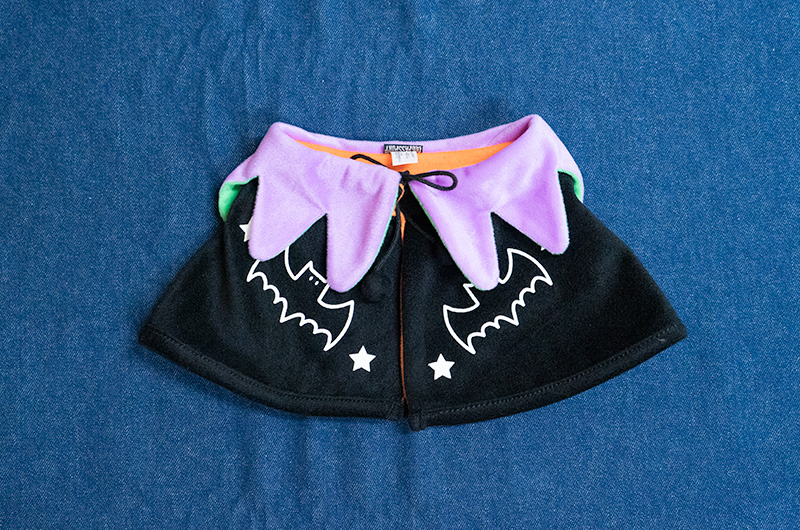 Amo-san is so cute with the 4L pumpkin hat! We first decided to have him wear the orange side of the LL cape.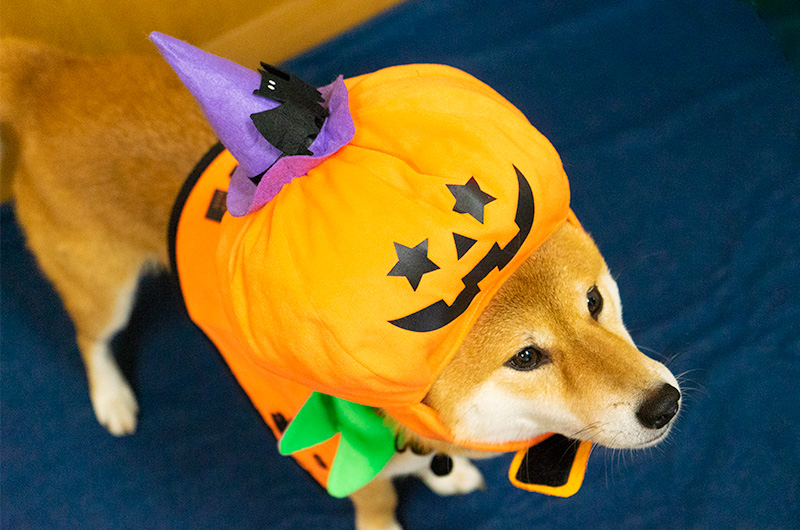 Amo-san looks handsome with the black side compared to the orange side.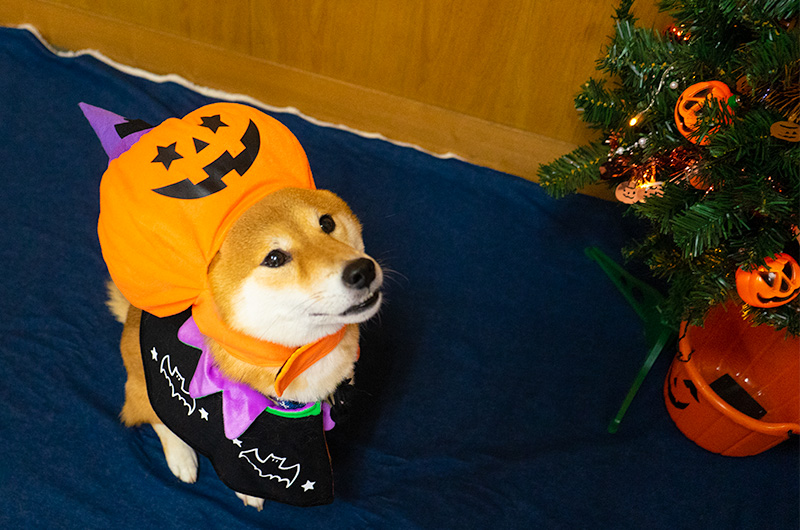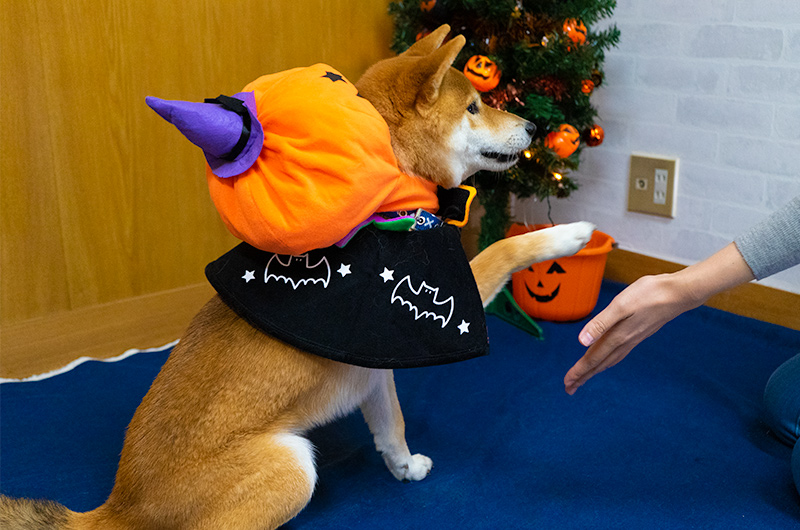 We also had Amo-san dress up as a rugby player since the Rugby World Cup 2019 is currently held in Japan. The size is XL and can be taped with a velcro.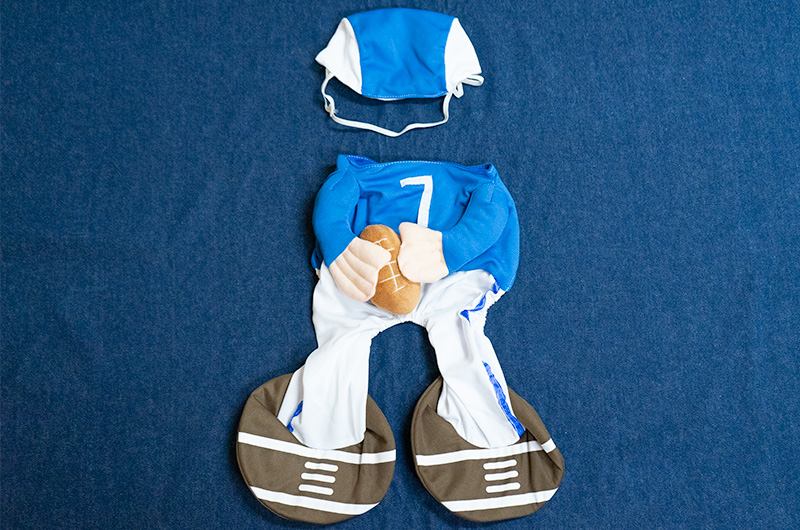 In spite of Japan losing the match with South Africa, the Rugby World Cup Japan 2019 was one thrilling game that Japan was in the top eight!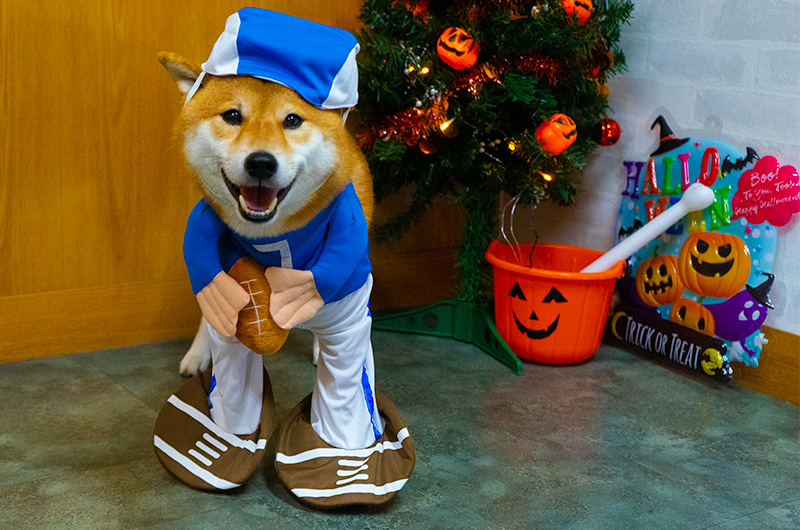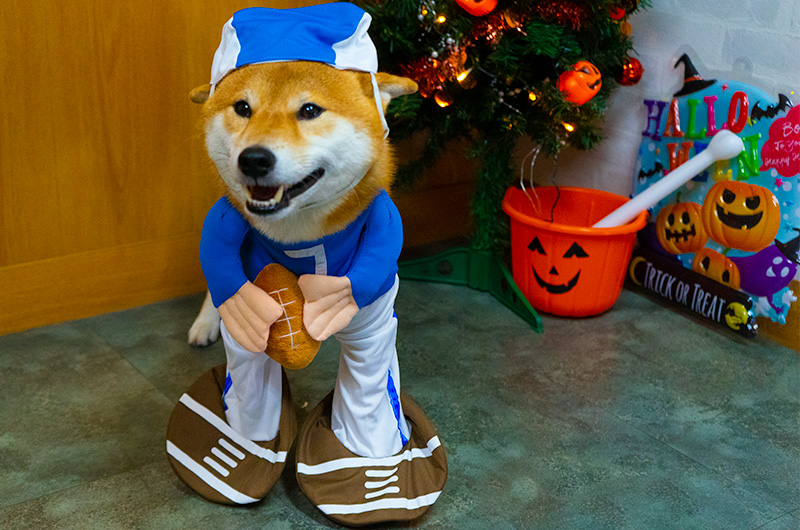 Next, we had Amo-san dress up as a lion! The size is flexible, even big dogs can fit because of the rubber. All we had to do is to fit it to Amo-san's head.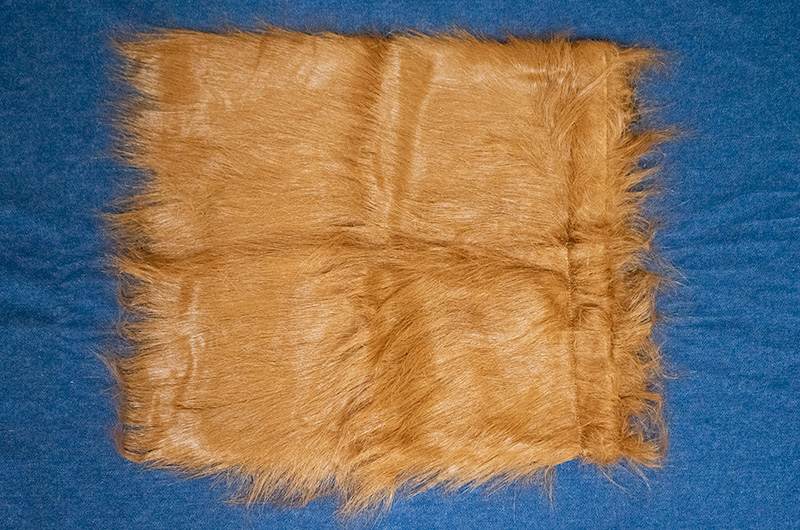 Amo-san looks perfect since the fur has the same color as the lion headset.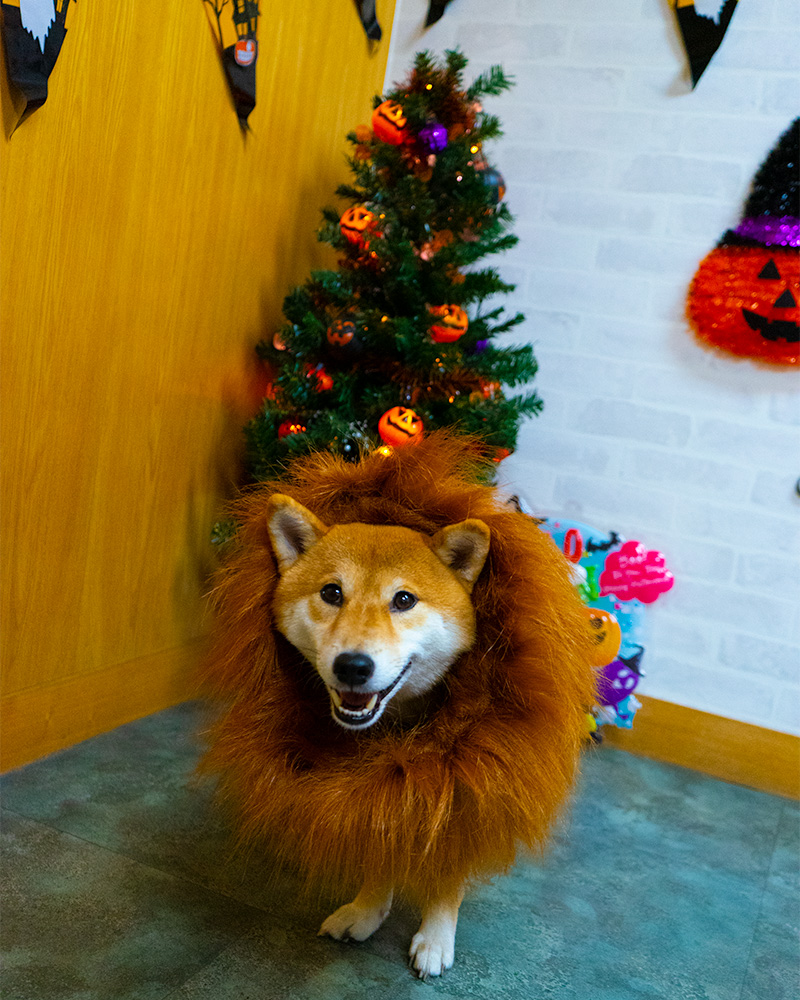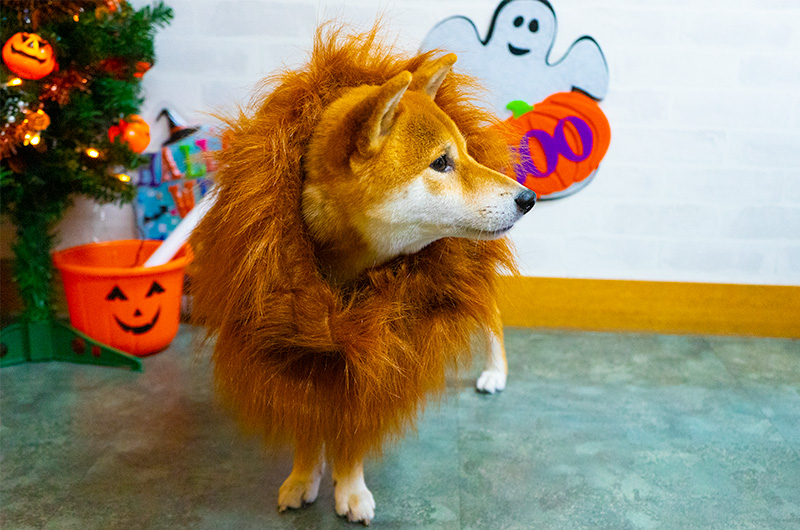 Amo-san trying to act cool.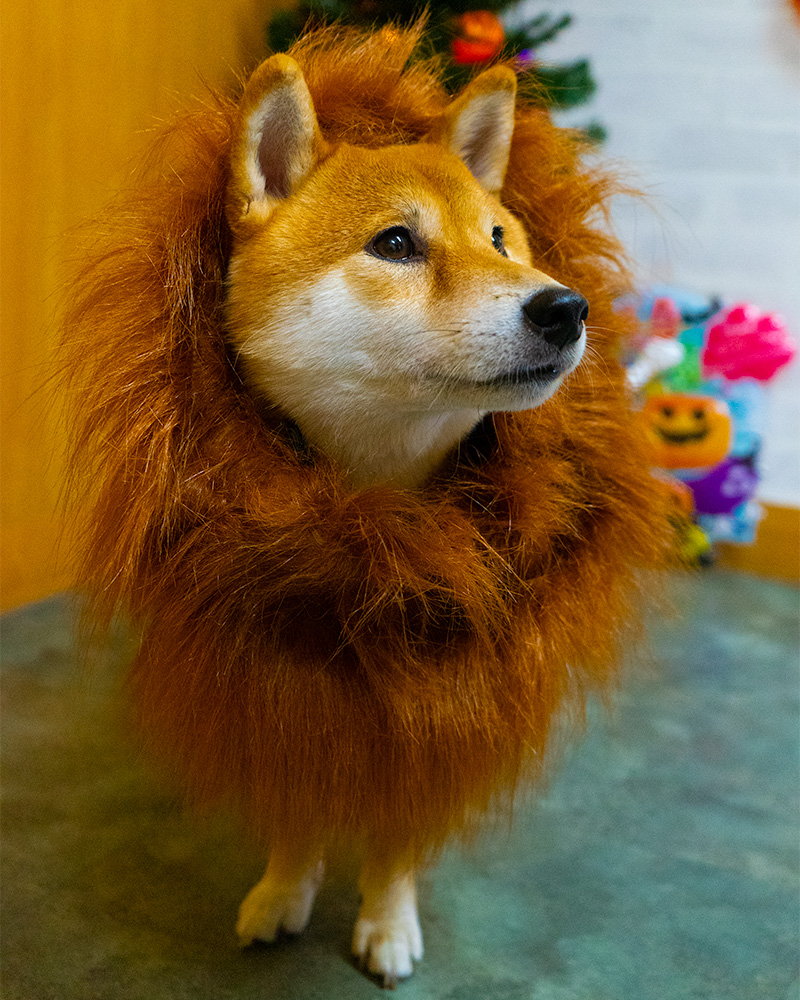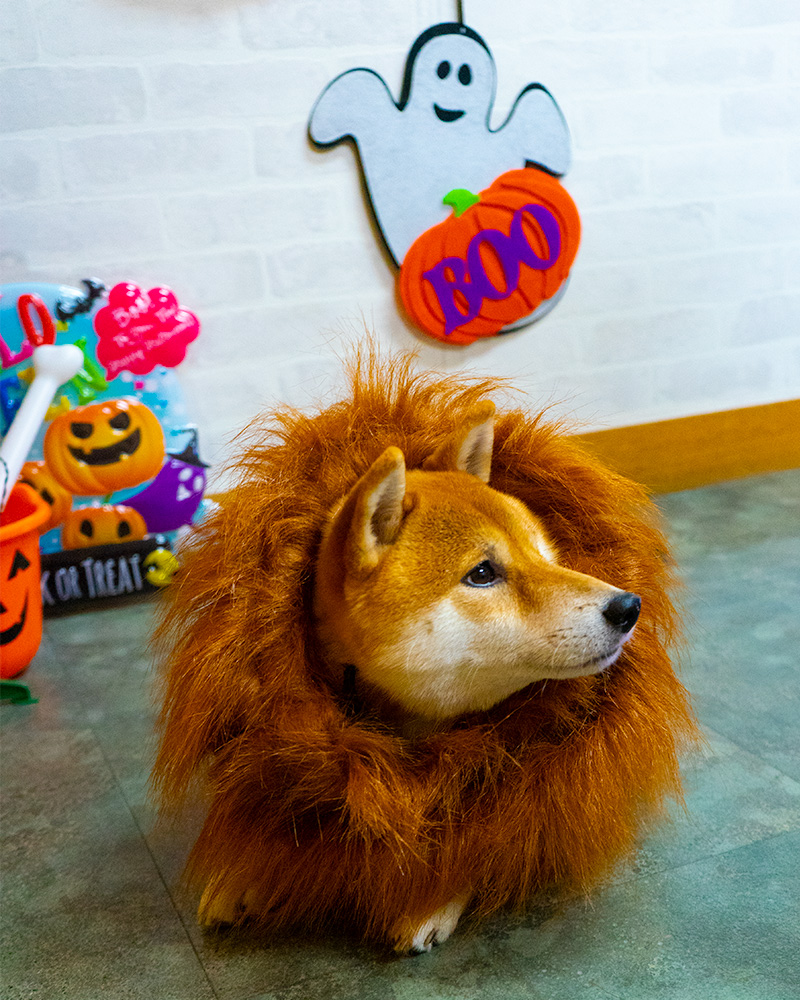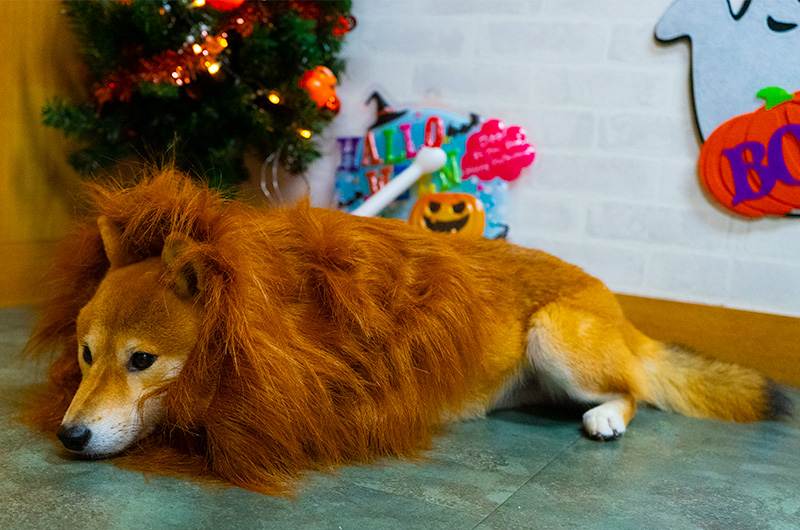 Our next outfit is the chonmage and a Shinsengumi costume.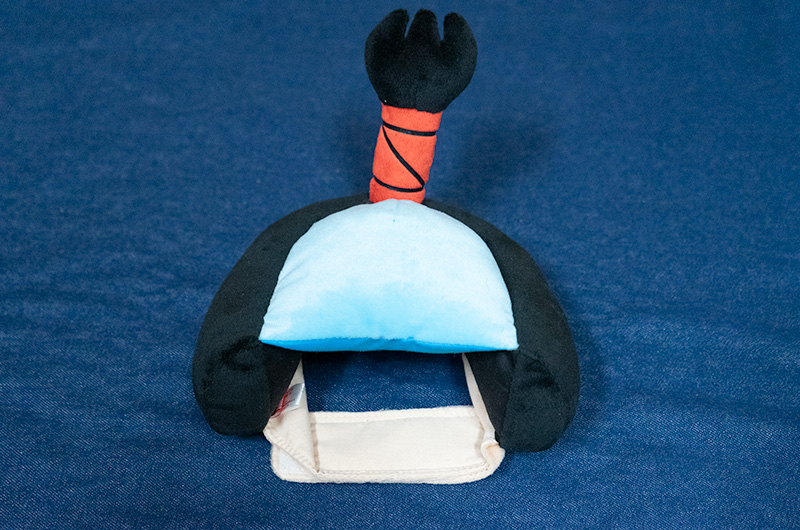 Since Amo-san is a Japanese dog, we wanted him to be a Shinsengumi warrior. This outfit can be attached via velcro.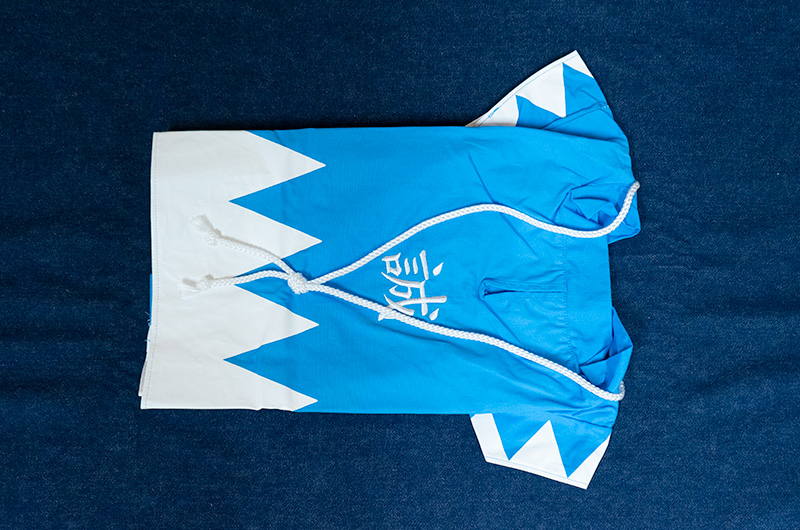 The L sized outfit was a perfect fit for Amo-san even though we anticipated that it might be too small for him. A Japanese dog plus a Japanese outfit equals perfection.
Amo-san looks even better as a samurai with the chonmage hat on.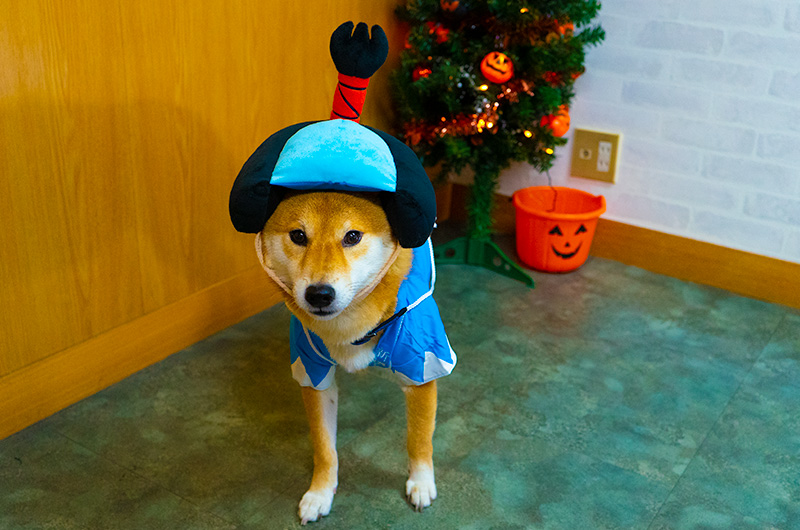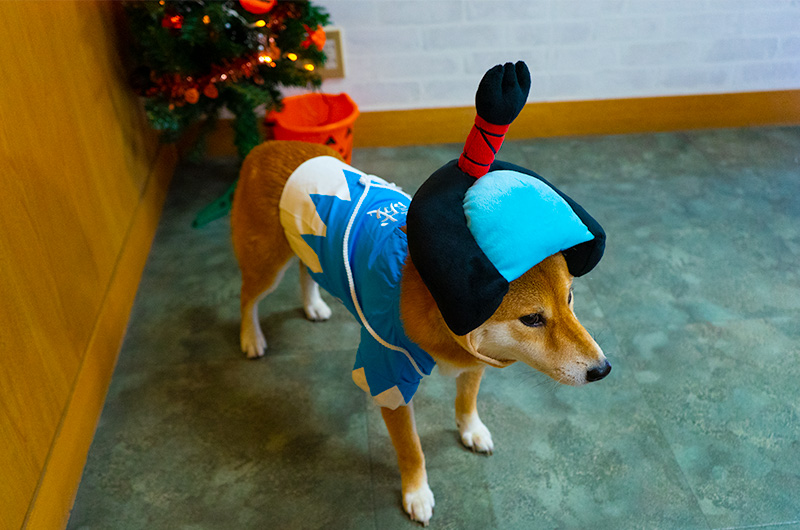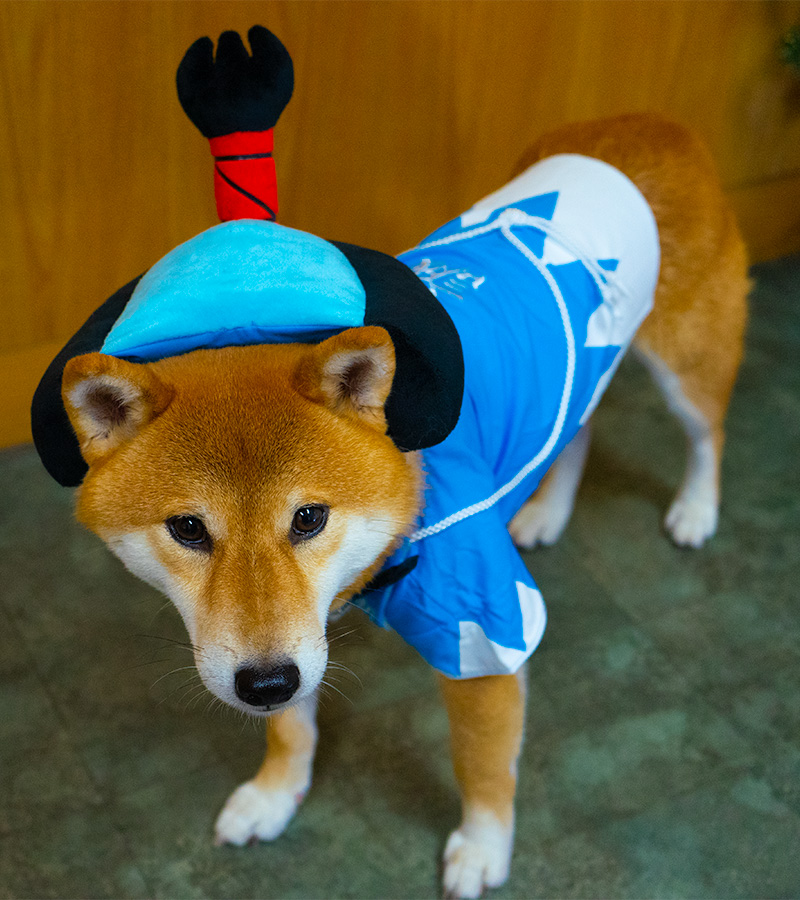 Finally, a prisoner with a saw on his head. The blade is M sized, and there's a hole to pierce the ears through. However, we decided to fix it on Amo-san's neck because it's too small.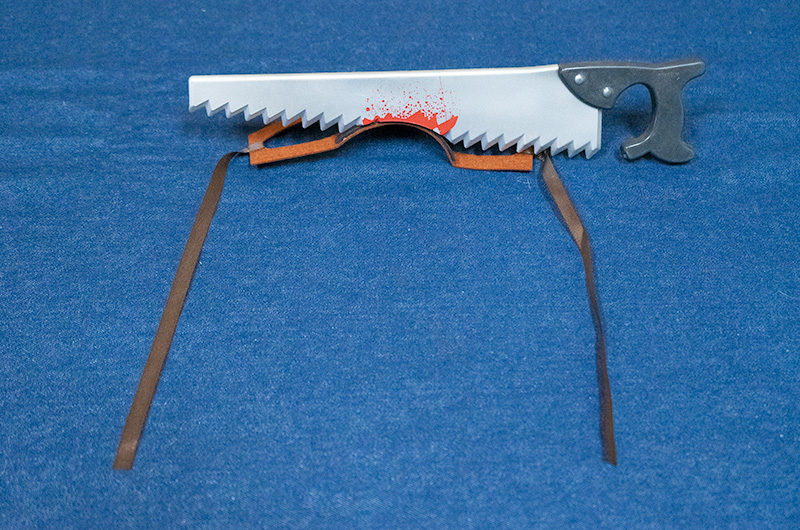 The L sized prison uniform came with a hat! First, you put on the sleeves from the forelegs and tie the body and neck with strings.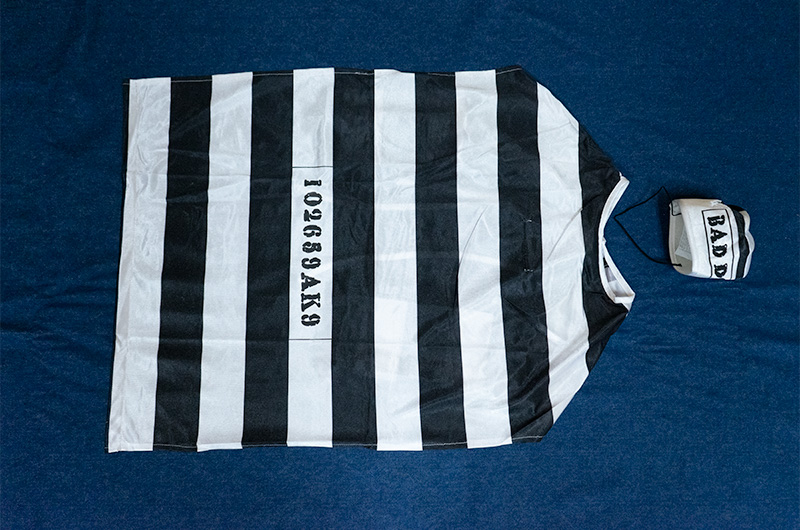 Amo-san looks like a horrifying zombie!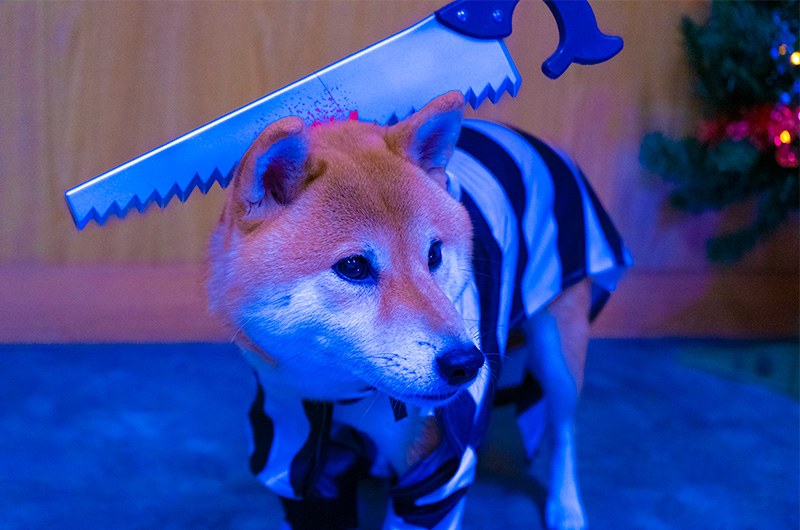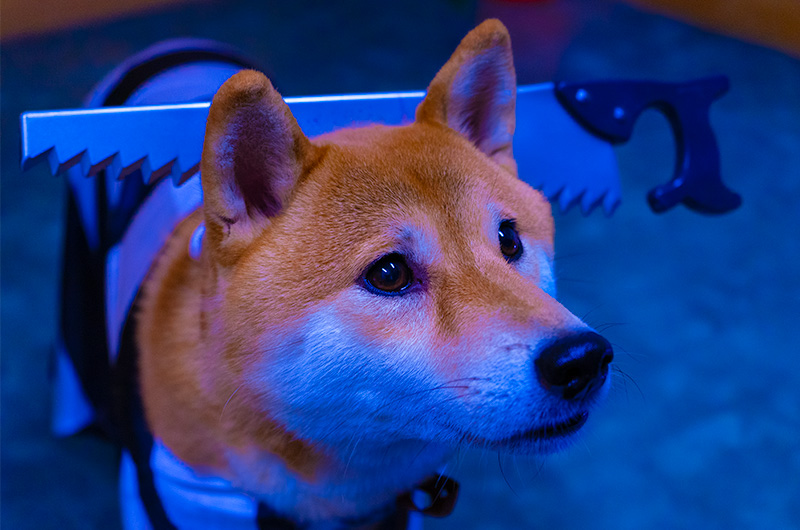 Despite the outfit being too large, it expressed a good taste after all.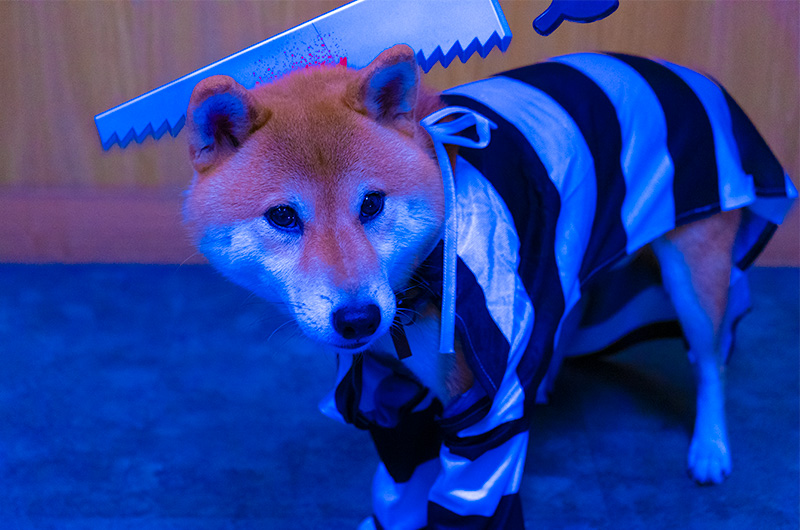 Now we have Amo-san with the prisoner hat on.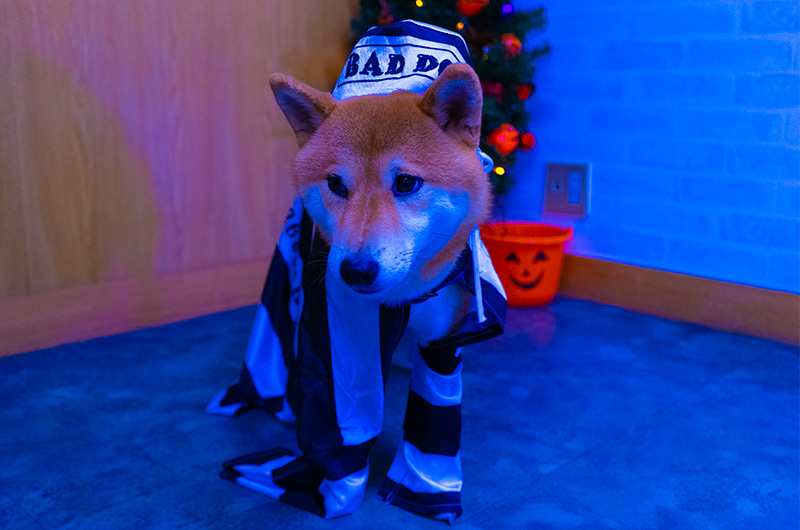 Because we had Amo-san do all the hard work with the fashion show, we gave him a large hot dog bed for a present! The smiley face was very appealing.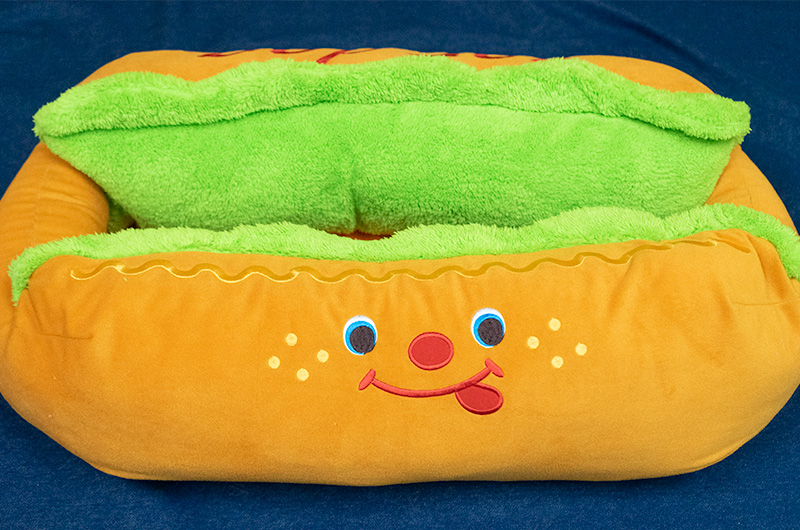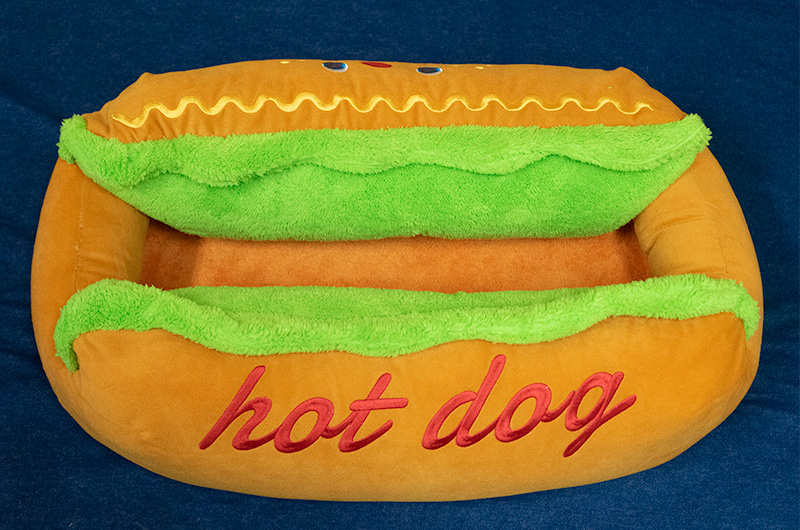 Amo-san was pretty delighted.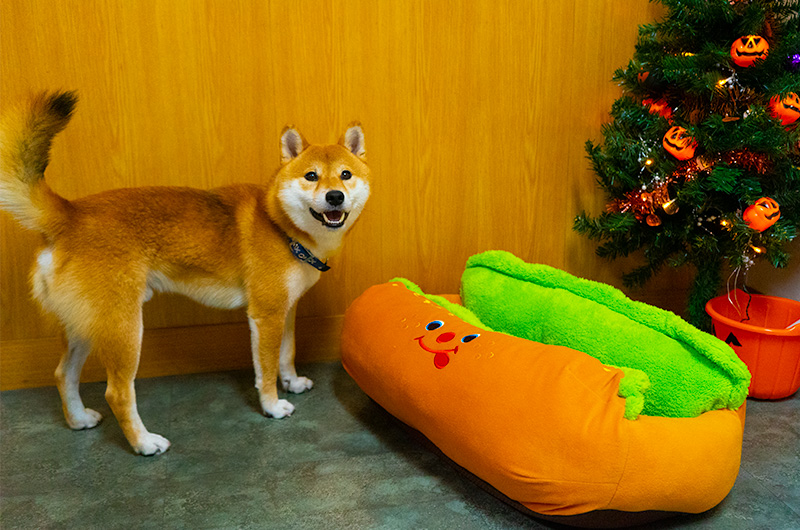 We hope Amo-san likes the hot dog bed.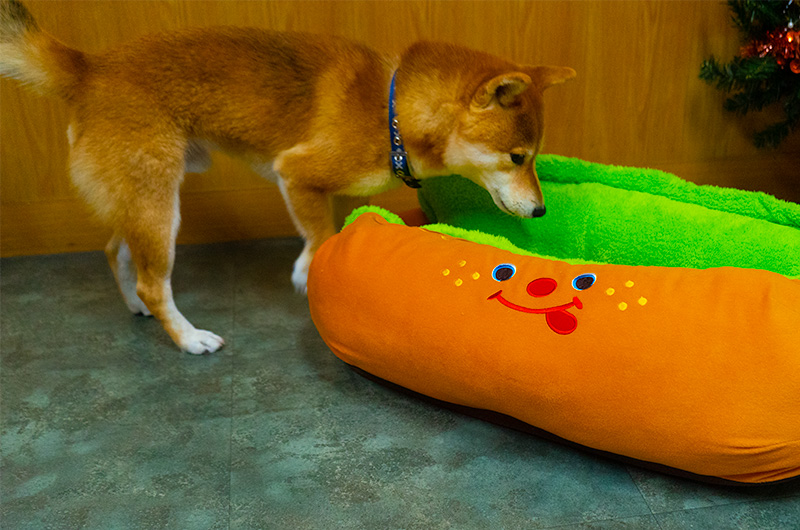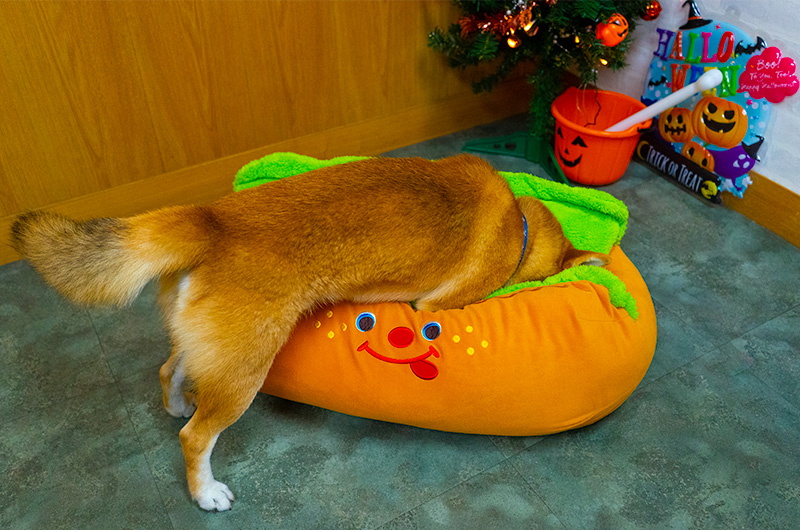 Amo-san was in the bed with a blink of an eye! Also, he seems purely satisfied!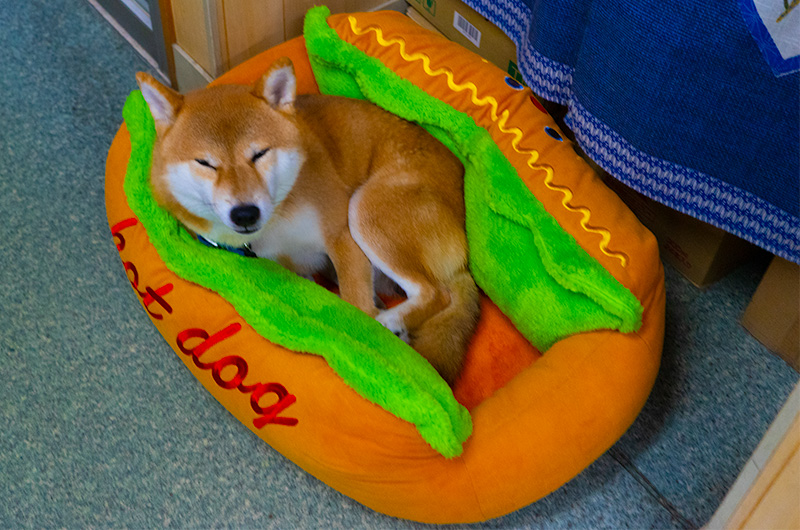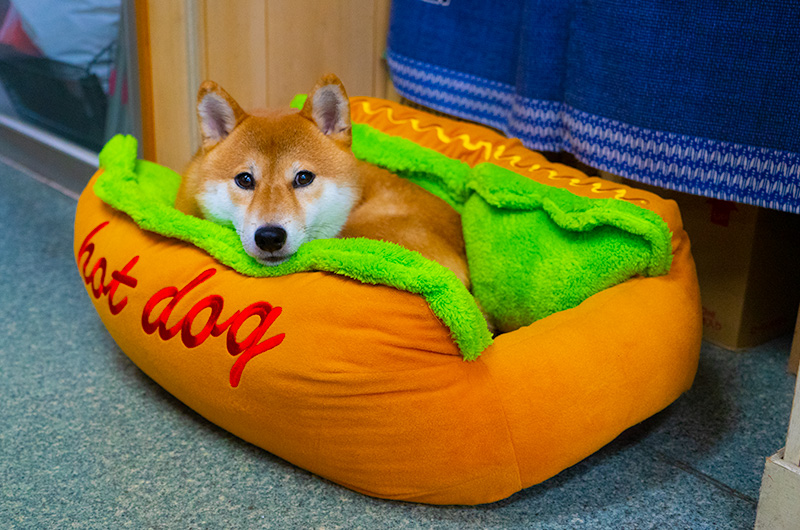 We would like to give Amo-san a round of applause for his hard work during the fashion show. We let Amo-san rest in the hot dog bed for a while.
For past articles concerning Halloween, please refer to articles 22 Halloween and Shiba Inu's Amo-san and 49 Halloween 2018 for more details.
Thanks for reading!